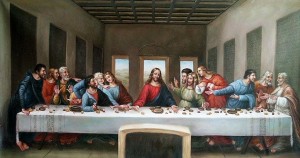 Luke 22:20 Likewise He also took the cup after supper, saying, "This cup is the new covenant in My blood, which is shed for you."
Jesus said he was making a new covenant with them; but it does not seem clear as to what the covenant was?
Strongs lexicon defines the word covenant as:
1) a disposition, arrangement, of any sort, which one wishes to be valid, the last disposition which one makes of his earthly possessions after his death, a testament or will
2) a compact, a covenant, a testament
a) God's covenant with Noah, etc.
In a normal covenant you would see things spelled out as to what the person was leaving or what he was agreeing to do. Jesus says he is making a new covenant with them, but he does not tell them what the new covenant is, or does he?
I believe there has been a lot of confusion here. It seems most would think that he is speaking of our forgiveness through His giving his life (shedding his blood) to cover our sins. Now we can have a relationship with God because our sins have been removed. Although it is true that those who turn to God can receive forgiveness of sins and relationship with God, it is not true that it is "new."
It appears that God did not abandon man when Adam and Eve sinned. God provided a covering for them, the skin of the innocent animal, showing them that the death of the innocent would cover their nakedness. Most Christians understand that all the bloodshed of animals in the Old Testament (covenant) was a foreshadow of what Christ was going to do. He was the innocent one whose sacrifice would cover men's sins.
It is evident that man had a relationship with God in the Old Testament times (Able, Noah, Abraham, David etc.), in fact it seems that the whole Old Testament is about how he deals with man in this relationship. So having sins forgiven and man having a relationship with God is not "new." So I do not believe this is what Jesus was indicating in his New Covenant. Or at least not all he was talking about.
So what is the New Covenant, and why didn't he lay it out for them when he told them about it? I believe he did tell them and he did it in the same place and at the same time that he broke bread and gave them the cup. This was his final meal with them. This was in the upper room where he celebrated the Passover with them.
In John 13:1, "Now before the Feast of the Passover, when Jesus knew that His hour had come that He should depart from this world to the Father, having loved His own who were in the world, He loved them to the end.
2 And supper being ended,the devil having already put it into the heart of Judas Iscariot, Simon's son, to betray Him, 3 Jesus, knowing that the Father had given all things into His hands, and that He had come from God and was going to God, 4 rose from supper and laid aside His garments, took a towel and girded Himself."
So we see in the book of John that this is the same time and event spoken of in Luke 22. As you read John chapters 13, 14, 15, 16 you will want to understand that he was in the upper room and had just finished dinner. This is just after he had spoken to them of the New Covenant. In John 17, he is in the garden, where he will be arrested. So what did he speak to them about, just after he told them about the New Covenant? What was new or different than the old covenant? He spoke to them about the Holy Spirit coming and living in them.
John 14: 15 "If you love Me, keep My commandments. 16 And I will pray the Father, and He will give you another Helper, that He may abide with you forever— 17 the Spirit of truth… 23 Jesus answered and said to him, "If anyone loves Me, he will keep My word; and My Father will love him, and We will come to him and make Our home with him…. 26 But the Helper, the Holy Spirit, whom the Father will send in My name, He will teach you all things, and bring to your remembrance all things that I said to you…John 15: 26 "But when the Helper comes, whom I shall send to you from the Father, the Spirit of truth who proceeds from the Father, He will testify of Me….John 16:7 Nevertheless I tell you the truth. It is to your advantage that I go away; for if I do not go away, the Helper will not come to you; but if I depart, I will send Him to you…. 12 "I still have many things to say to you, but you cannot bear them now. 13 However, when He, the Spirit of truth, has come, He will guide you into all truth."
Please read the whole chapters; you will see that the main thing Jesus spoke to them about was the Holy Spirit; how to get into this relationship and how to live in it. It would be easy to expand on this; but my goal is to make the point and to leave you to study this out for yourself. I will leave you with one of the most straight forward verses in the New Testament, which refers to the Old Testament, where God promised this to his people.
Heb 8:6 But now He has obtained a more excellent ministry, inasmuch as He is also Mediator of a better covenant, which was established on better promises. 7 For if that first covenant had been faultless, then no place would have been sought for a second. 8 Because finding fault with them, He says: "Behold, the days are coming, says the LORD, when I will make a new covenant with the house of Israel and with the house of Judah— 9 not according to the covenant that I made with their fathers in the day when I took them by the hand to lead them out of the land of Egypt; because they did not continue in My covenant, and I disregarded them, says the LORD. 10 For this is the covenant that I will make with the house of Israel after those days, says the LORD: I will put My laws in their mind and write them on their hearts; and I will be their God, and they shall be My people. 11 None of them shall teach his neighbor, and none his brother, saying, 'Know the LORD,' for all shall know Me, from the least of them to the greatest of them. 12 For I will be merciful to their unrighteousness, and their sins and their lawless deedsI will remember no more."
13 In that He says, "A new covenant," He has made the first obsolete. Now what is becoming obsolete and growing old is ready to vanish away."
So we see that he spells out the New Covenant, not only is he not going to remember their sins; but he is going to "put the laws in their minds and write them on their hearts." They will no longer need a teacher, because they will know Him. Doesn't this sound like what Jesus was talking about? Jesus promised he would send the Holy Spirit to live in them and teach them. This is "new."
It seems to me that the Holy Spirit being sent to live in man is a major part of the New Covenant that God made with men. I am not claiming that this is all the New Covenant; but it is certainly a huge part of it.
So how do you get in on this deal (covenant)? This is what Jesus said; John 14:15, "If you love Me, keep My commandments. 16 And I will pray the Father, and He will give you another Helper, that He may abide with you forever— 17 the Spirit of truth…."
So it seems that there must be some choice to love and obey God. There is so much more, but I believe that once you have the Holy Spirit, that God will do what he said he will do and teach you all things (John14:26). So let's keep it simple for now. Make a decision to love and obey God. Pray to him and tell him this. Ask him to teach you and give you his promise of the Holy Spirit.